Seiko Manufacturing·Excellent Quality
4 core advantages provide accurate and high quality services for you
high-end quality
Factory direct sale
Rigorous monitoring
Boutique Quality
Shangdong China Coal
Steel Rail
The Main Components Of The Railway Track
The function of the steel rails is to guide the wheels of the locomotives and vehicles forward, to withstand the great pressure of the wheels, and pass them on to the sleepers. The teel rails must provide the wheels with a continuous, smooth and minimal rolling surface. In electrified railway or automatic block sections, Rails can also serve as track circuits
Shangdong China Coal
Steel Rail
rail type
The type of steel rail is measured in kilograms per meter of rail quality
The steel rails commonly used on railways are 75kg/m, 60kg/m, and 50kg/m.
43kg/m and 38kg/m
The cross-sectional shape of the steel rail adopts an I-shaped cross
section with bending resistanceRail head, rail waist and rail
bottom three parts
In order to make the rails better withstand the forces from all aspects and ensure the necessary
strength conditions, the rails should have a sufficient height.Its head and bottom
should have sufficient area and height, waist and bottom should not be too thin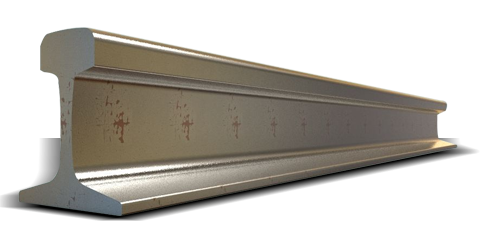 Steel Rail
The Main Components Of The Railway Track
For heavy-haul railways and particularly busy sections of railways
Laying 75kg/m steel rails
In the above types of rails, 38kg/m rails have been stopped production, 60kg/m, 50kg/m steel rails
It is laid on the main trunk line. The station line and special line are
generally laid 43kg/m steel rails.
More short-cut special section rails are now used, abbreviated as the "AT" rail.
In order to meet the needs of structures such as roads, bridges, and seamless lines,
the railways have also adoptedspecial section steel rails.
Shangdong China Coal
Steel Rail
Rail length
The standard length of steel rails is 12.5m and 25.0m.
Special heavy-duty, heavy-duty rails use standard length rails of 25.0m, and other types of rails can use standard-length rails of 12.5m25.0m.
"Provisional Technical Conditions for a 250km/h Passenger Rail Line 60kg/m Rail" stipulates that a 250km/h passenger dedicated line (considering freight)The standard rail length is 100m.

The length of rail have three kinds, compared to the standard rail of 12.5mm, they respectively shorter 40, 80, 120mm; compared to the 25.0mm standard rail, they respectively shorter 40, 80, 160mm
Shangdong China Coal
Steel Rail
Product parameters
Item kg/m
Section Dia mm
Length m
Section Area cm2
Theory Weight kg/m
A
B
C
D
9
63.50
63.50
32.10
5.90
5-7
11.29
8.94
12
69.85
69.85
38.10
7.54
6-10
15.54
12.20
15
79.37
79.37
42.86
8.33
6-10
19.33
15.20
22
93.66
93.66
50.80
10.72
7-10
28.39
22.30
30
107.95
107.95
60.33
12.30
7-10
38.32
30.10